Rosier Artist Management Presents
2022-09-09
@
19:30
–
23:30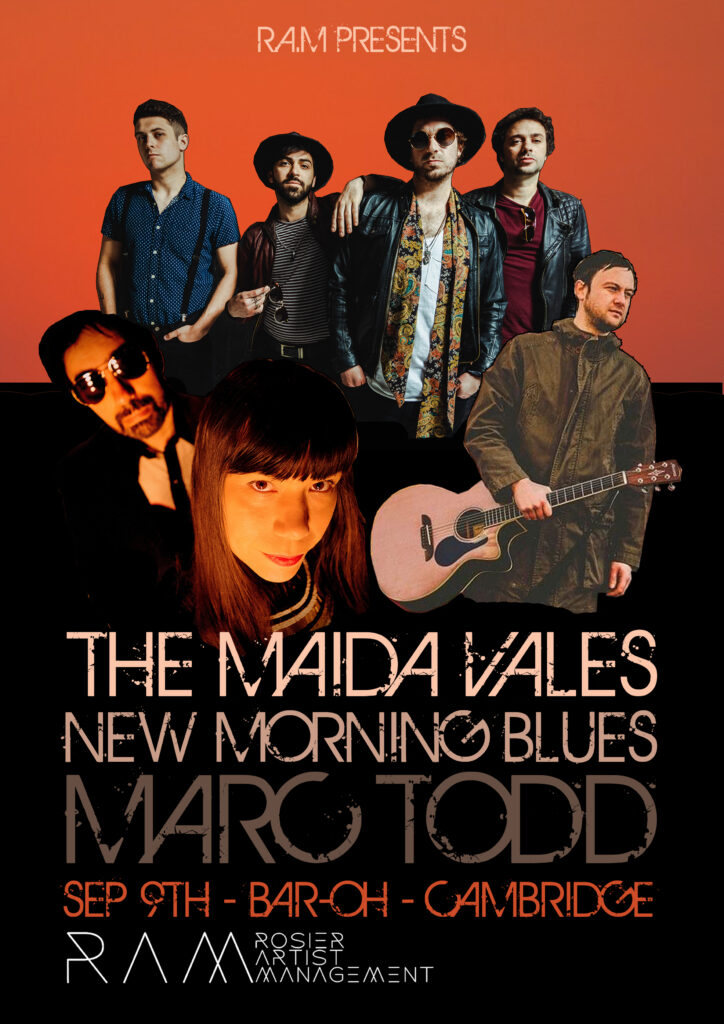 Three unique artists appear for a night of music, featuring some of the UK's new masters of songwriting.
The Maida Vales
The Maida Vales' musical roots lie in the infectiously catchy pop-rock rhythms of The Raconteurs and Supergrass as well as the traditional Brit-pop sounds of the 60's. The band's powerful "larger than life" stage presence has been compared to the exuberant energy of The Clash and The Rolling Stones.
Originating in St.Alban's and consisting of guitarist/vocalist Paul Littler, lead guitarist Matteo Cervellin, bass guitarist/vocalist Kelpie McKenzie, and drummer/vocalist Ollie Dixon, The Maida Vales have fast become one of the country's premier unsigned groups.
Thanks to an impromptu jam with Mystery Jets frontman Blaine Harrison, the band was introduced to producer Matthew Twaites who went on to record and produce the band's first EP including debut single "Sunday Morning".
New Morning Blues
Ethereal, emotional and unconventional, this progressive duo weave compelling tales through a fusion of folk, country, and indie, with a lush soundscape that ranges from the celestial to the cinematic.
Joanna Backovic is a composer and performance artist who creates electroacoustic music, sonic art, and score for theatre and film.
Ian de Sylva's first band, Silver, released music on Rough Trade Records and subsequently signed to Medicine/Warner Bros, recording their debut album with Craig Leon (The Ramones, Blondie). They toured with such luminaries as The Cranberries and Elastica.
Marc Todd
In pursuit of truth, we inevitably endure setbacks and shortcomings. Often, being so tested, we are challenged to dig deep into ourselves to realise our full potential. For Marc Todd, such trials and tribulations are what ultimately inspires him to create. With an experiential approach that leans into his observations of human frailties and triumphs, Marc Todd's brand of Indie Folk is steeped in relatability, honesty, and deeply emotive lyrics.
Based in the North West of England, Marc released his debut album via Glasstone Records in 2021 to critical acclaim.